Overview





The 5C7-195 is a convenient way to control a Thermoelectric Module or resistive heater. The front panel provides a convenient way to select and adjust the Actual Temperature, Set Temperature, Alarm Temperature, and the DC Voltage output. This unit plugs into an AC outlet and has its own, internal switching power supply to provide selectable 3.5 to 20 vdc.

FRONT PANEL CONTROLS
FOR DISPLAY AND ADJUSTMENT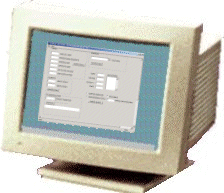 PC communications via a computer's "RS232 communications interface" allows you to set additional configuration parameters. One RS232 COM port on your computer will configure and monitor one controller. The user friendly, configuration software requires no prior programming experience to establish operation. Once the desired set parameters are established, the PC may be disconnected and the controller becomes a unique, stand alone controller. All parameter settings are retained in non-volatile memory.
A controller command set is provided for qualified personnel to program a custom software interface or use as an embedded control.
The back panel provides easy connection to power, sensors, and RS-232. Screw down connectors are used to provide power from an external power supply in place of the internal power supply.
A user supplied external power supply can provide a wider range of voltages and a higher amperage.
A Pulse Width Modulated controller, or
PWM
controller, is a type of
switched-mode
controller. Our PWM controllers use square waves of varying widths and at a high frequency to provide power to the "load" (heater/cooler). Low power dissipation and precision control of the load make this type of temperature controller perferrable to analog controllers.
The 5C7-195 can turn off the output power if there is a high temperature alarm or a low temperature alarm state. You can select for one of the following: No Alarm, High Alarm, or Low Alarm. However, the alarm sensor is a separate sensor from the control sensor. So if you want to use an alarm, for example, to prevent thermal runaway (High Alarm), you need two sensors - one for control and one for the alarm.
WORKS WITH PELTIER MODULES OR RESISTIVE HEATERS, FANS, ETC.!
These controllers provide bi-phase heating and cooling (automatically switching between heating and cooling as needed), or single-phase heating or cooling (heats only, or cools only). Besides peltier modules, these controllers work with thin film resistive heaters and other DC voltage devices.
Note: Prices shown are for the controllers only. TE modules are available but not included in the controller pricing.
Telecom Note
FOR FIBER OPTIC COMPONENTS AND LASER DIODES... Note.

Specifications

Load Type

Can be a peltier module (TE module, Thermoelectirc module), or you can power resistive heaters (such as a thin film resistive heater, kapton heater, nichrome wire, etc.) or fan, etc.

Power

Input for Controller

110/220 VAC, 50/60 Hz. (Actually, 85 VAC to 260 VAC)

Output

With your own External Power Supply: 1 to 28 vdc at up to 10 Amps using UNI-DIRECTIONAL (heat only, or cool only) output.
With the Internal Power Supply: 3.5 to 20 vdc with 65 Watts ma

x

- see "Load Circuit Capability" diagram below
Control

Phase

(Heat/Cool)

Bi-phase. The controllers automatically heat or cool as needed (using a thermoelectric module).
Single-phase. The controllers can be set to

heat

only or

cool

only.

Modes

(Algorithms)

Proportional (P), Integral (I), and Derivative (D) control

P, PI, PD, or PID
Pulse Width Modulation (PWM) of Output is

2700 Hz

Control stability depends on the temperature resolution of the controller. Resolution is 0.1 degrees C. It offers the possibility of stabilizing to between ±0.1°C and ±0.2°C with a good thermal system.

Temperature

Scale

Display & Settability

From the PC: 000.0 °C
From the Front Panel: 00.0 °C (below 100°C) or 000 °C (at 100°C+)

Range

(Control Temperature)

Resolution

(Internal Resolution)

Sensors

2 Sensors - Each controller supports 2 sensors of the same series.
Thermistor Sensors
Open and short sensor protection disables the load circuit

Set Point Adjustment

Set fixed value from the PC or the front panel.

Alarms

Limits - PC configurable for either High or Low temperature alarm values. The controller uses a second sensor for the alarm sensing.

Operation

Stand-alone

(disconnected from PC)

Non-volatile memory

for operating parameters allows for stand-alone operation

From Computer

(from PC)

Software

Included - No computer programming experience is required to use the standard, Windows based

Setup Program

(configuration program)
Custom - Command set is provided so programmers may create their own software interface for embedded controller applications

Interface

RS-232 - can be connected directly to a communications (COMM) port (COM1 or "A", COM2 or "B", COM3. or COM4 on a PC)

Dimensions (includes bracket)

Inches: 8.13 long x 7.13 deep x 2.5 high
Centimeters: 20.65 long x 18.11 deep x 6.35 high

Pricing
SENSOR PRICING


Click here for Sensors and Prices
MODEL 5C7-195
Note 1: Unlike many of our other OEM controllers, this benchtop controller includes an internal power supply.
Note 2: To use the alarm function of this controller you need a second sensor.
Quantity 1 price: each
Lower prices are available at higher volume starting at quantity 2.


Payment

Check, wire transfer, VISA, Mastercard, Discover, American Express, Electronic Check, PayPal.

General Notes on Pricing

Currency: All prices are $US.